About
Having moved from the UK to Sweden in 2011, I work in the Nordics and Europe as part of the Red Hat Consulting team based in Stockholm Sweden.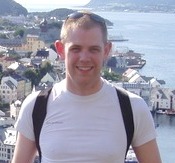 Previously I was Technical Director of the software development team at Premier IT Partnership, working primarily with open-source technologies such as PHP, MySQL and Linux on a variety of hosted software systems for professional development and recording, e-portfolio management, medical revalidation and websites for charities and membership organisations amongst other clients.
I've being working with software on a variety of platforms for most of my life, and have a degree in Electrical & Electronic Engineering from Cardiff University.
When not at work, I have a number of interests, including:
Open source software projects. Amongst other things I have contributed to PEAR and maintain or co-maintain a number of software packages for the Fedora Project, a popular and forward-thinking Linux distribution.
Outdoors stuff – skiing, walking, generally being outside. Places with nice scenery.
Progressive house and trance music; although this is now historical I have a site about my previous DJing interests
Network/system security and administration. I've got detailed knowledge about most of the key protocols which make the Internet work, and specialise in SMTP e-mail handling, filtering and routing (primarily using Exim). I've given some talks about Exim at the official UK training course.
Digital culture and rights issues (includes privacy, copyright and software patents amongst other things). I've campaigned in the European Parliament in Brussels with FFII and supported the Open Rights Group as a Founder Member from the start.
Scandinavia. Aside from the fact that it's now my home, since 1998 I've run the popular website Webcams in Norway (available in various languages).